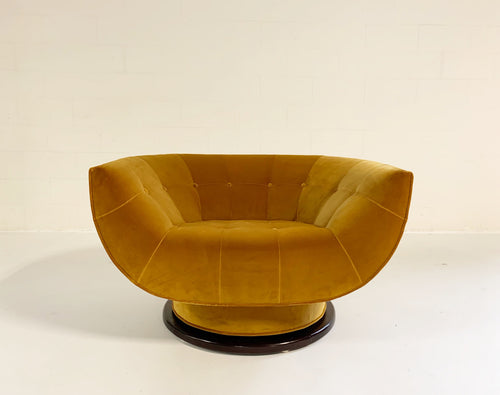 Description
This was was a fun project! We asked our Instagram followers to help with the restoration and design process of this super cool Adrian Pearsall lounge. This lounge swivels 360 degrees! It's supremely comfortable, and the Loro Piana orangey gold cotton velvet (ginger alchemy colorway) gives it serious retro vibes. Check out the before photo in the line up. From zero to hero.
Details
Manufacturer
Craft Associates, USA
Date
1970s
Dimensions
43 W x 34 D x 26.5 H x 17 SH in
Material
Loro Piana Velvet
Condition
Excellent. Restored in Saint Louis.
Shipping & Delivery
$425 in the U.S. 
This cost is for white glove shipping in the United States. Arrives in 3 to 6 weeks. Cost includes full insurance, item collection and packaging, shipping and handling, and delivery by appointment. You don't need to lift a finger. Just point to the spot in your home where this beauty will live and our trusted white glove partners will do the heavy lifting.
If you would like a shipping quote for a different method,  Inquire Here.
Worldwide shipping available. Inquire here.
Need More Information?  
Would you like to see a video of this item, perhaps more photos?  If this is one of our chairs, would you like to see a person sitting in it?  If it is a painting, perhaps you would like to see a person in front of it for scale?  Send us a message and let's talk more about this cool piece.