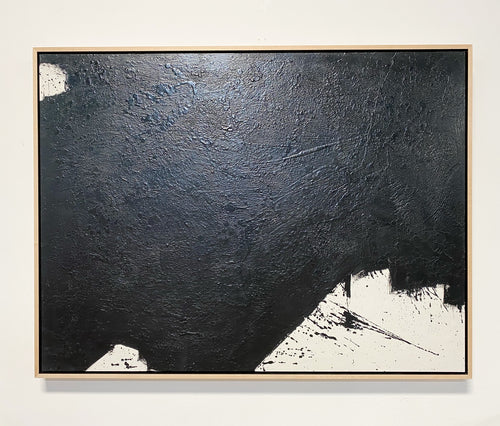 Description
In Tar series.

Art Dimensions: 48 x 36 h inches
Framed Dimensions: 49.5 x 37.5 inches.

Beautiful, custom maple float frame with black interior.

Forsyth is proud to be the exclusive gallery of John O'Hara (American, b. 1963). O'Hara is a self-taught artist from St. Louis and is known for his large-scale abstract works. His medium of choice is encaustic—a mixture of pigments and beeswax and he allows the material to dictate color, line and texture. His works often feature natural and organic forms and incorporate both figural and abstract elements. O'Hara began his art career in 2018 and collectors and designers quickly took notice. His work is included in both public and private collections around the world. Michael Kors selected O'Hara's Tar series paintings for his Milan, Paris, and New York showrooms and his flagship store in London designed by Pamela Meech. O'Hara's Brands on Yellow is hanging in the lounge of Maison de Luz, the new luxury hotel by Atelier Ace and designed by AD100 design firm Studio Shamshiri. O'Hara, co-founder of Forsyth, is known for his series including Tar, Brands, Vinyl, Botanical, Daisies, Sardinia, Square Dance, and Get Your Shit Together.
Details
Artist
John O'Hara
Date
2020
Dimensions
49.5 W x 37.5 H in
Material
Encaustic on Board. Float frame.
Condition
New, original work of art. 
Shipping & Delivery
$425 in the U.S. 
This cost is for FedEx shipping in the United States. Arrives in 5 to 6 days. If you would like a shipping quote for a different method,  Inquire Here.
Worldwide shipping available. Inquire here.
Need More Information?  
Would you like to see a video of this item, perhaps more photos?  If this is one of our chairs, would you like to see a person sitting in it?  If it is a painting, perhaps you would like to see a person in front of it for scale?  Send us a message and let's talk more about this cool piece.