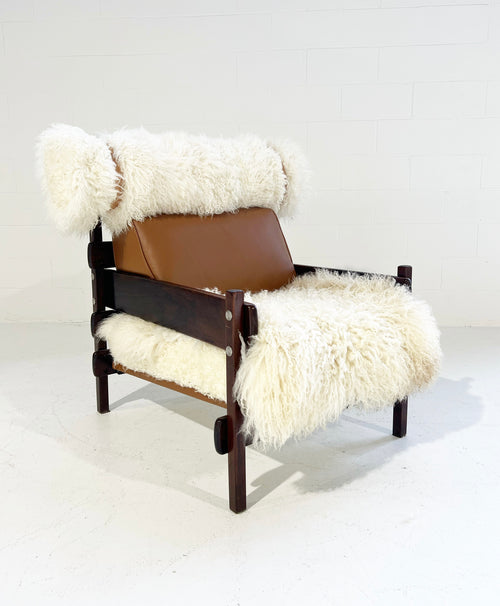 Description
Brazilian architect-designer Sergio Rodrigues was born in 1927 in Rio de Janeiro to a family of prominent artists and intellectuals. He studied at the National School of Architecture in Rio de Janeiro. After graduating in 1952, Rodrigues began to focus more on furniture design, and, in 1955, he founded Oca, an Ipanema-based brand focused on the development of modern Brazilian furniture. Recognized internationally as one of Brazil's most influential modern designers, Rodrigues's work champions the Brazilian identity, often drawing inspiration from traditional forms and utilizing native materials, such as Peroba, Jacaranda, and Imbuia woods.
This Tonico lounge chair was designed by Rodrigues in circa 1960. It is made from solid Jacaranda and masterfully restored in Gotland sheepskin and Loro Piana buffalo leather. Our designers chose to cover the top bolster pillow and seat in our curly, silky soft Gotland sheepskin. The lumbar cushion and bottom of the seat is in the Loro Piana leather. The look creates a beautiful contrast in texture and color between the two materials as well as the beautiful wood. 
Details
Manufacturer
Oca, Brazil
Date
1960s
Dimensions
29 W x 39 D x 39 H x 17 SH in
Material
Jacaranda, Gotland sheepskin, Loro Piana Italian buffalo leather
Condition
Excellent. Restored in Saint Louis. 
Shipping & Delivery
$850 in the U.S. 
This cost is for white glove shipping in the United States. Arrives in 3 to 6 weeks. Cost includes full insurance, item collection and packaging, shipping and handling, and delivery by appointment. You don't need to lift a finger. Just point to the spot in your home where this beauty will live and our trusted white glove partners will do the heavy lifting.
If you would like a shipping quote for a different method,  Inquire Here.
Worldwide shipping available. Inquire here.
Need More Information?  
Would you like to see a video of this item, perhaps more photos?  If this is one of our chairs, would you like to see a person sitting in it?  If it is a painting, perhaps you would like to see a person in front of it for scale?  Send us a message and let's talk more about this cool piece.