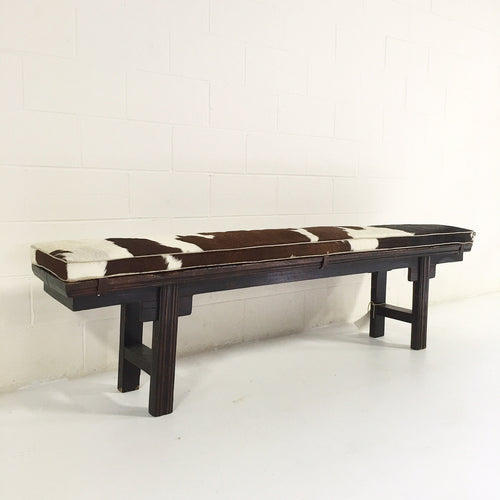 Description
Over 40 years old from the Tientsin Province of China, we shortened the legs of this amazing altar table to create a bench. We paired a luxurious Brazilian tri-color cowhide to compliment the richness of the aged wood. Well over six feet long, this beautiful bench is perfect for a hallway, long kitchen table, or at the foot of a bed.
Details
Manufacturer
Unknown
Date
20th Century
Dimensions
83 W x 13 D x 22.5 H in
Material
Wood and Brazilian Cowhide
Condition
New cushion.
Need More Information?  
Would you like to see a video of this item, perhaps more photos?  If this is one of our chairs, would you like to see a person sitting in it?  If it is a painting, perhaps you would like to see a person in front of it for scale?  Send us a message and let's talk more about this cool piece.