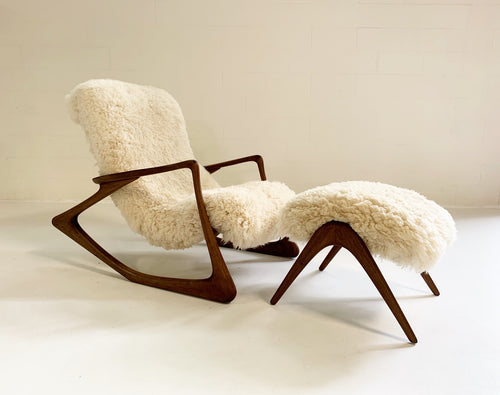 Description
Vladimir Kagan's work is well-known for its avant-garde craftsmanship combined with comfort and functionality. The sensuous, organic forms take on human-like characteristics through exaggerated, curved lines. Expertly reupholstered in California sheepskin, this gorgeous walnut rocking chair and ottoman is no exception.
Details
Manufacturer
Kagan-Dreyfuss, Inc. USA
Date
c. 1953
Dimensions
32 W x 42 D x 38 H x 18 SH in, ottoman: 21 W x 25 D x 17.5 H 
Material
Walnut, California Sheepskin
Condition
Excellent. Restored in Saint Louis. 
Shipping & Delivery
$425 in the U.S. 
This cost is for white glove shipping in the United States. Arrives in 3 to 6 weeks. Cost includes full insurance, item collection and packaging, shipping and handling, and delivery by appointment. You don't need to lift a finger. Just point to the spot in your home where this beauty will live and our trusted white glove partners will do the heavy lifting.
If you would like a shipping quote for a different method,  Inquire Here.
Worldwide shipping available. Inquire here.
Need More Information?  
Would you like to see a video of this item, perhaps more photos?  If this is one of our chairs, would you like to see a person sitting in it?  If it is a painting, perhaps you would like to see a person in front of it for scale?  Send us a message and let's talk more about this cool piece.